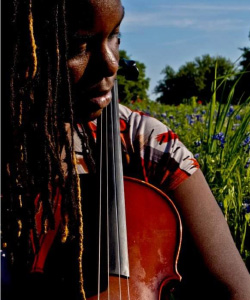 Kasha (she/they) is a classically trained Violist with multiple unique musical backgrounds. She has attended University of North Texas, starting the UNT Fiddle Club during her time there. They have performed professionally in multiple environments, including Scarborough Renaissance Faire, busking, and on Circus Freaks' Open Stage Variety Shows, where she performed musical improv on a variety of instruments including Viola Foley Sound FX and techniques with both traditional and 5-string electric Viola.
She was Viola Section Leader, tutored throughout her upperclassman years in the Poteet High School Orchestra, and conducted the orchestra onstage for her Senior Final. Kasha has performed throughout Dallas, TX: at Meyserson Music Hall, Open Stage at House of Poets, Dallas Slam Poetry, Buzzbrews Open Mic Night, A-kon Anime Convention, Fair Park in Dallas Tx, Boy Scouts of America, and more.
Kasha has sat in sessions for Celtic/Irish music at the McMurray Pub and attended workshops at the Irish Music Festival in Austin, TX.
She has performed solo for weddings and surprise engagements.
They have composed a Symphonic Orchestral piece for the A-kon Anime Convention in Dallas, TX, and has an affinity for video game, TV and movie scores.
Intermediately fluent in American Sign Language, Kasha has worked with Hearing, Hard of Hearing and Deaf students from Adults to Children. She is Autistic, Adhd and welcoming to those students that have these as well.
Kasha is eager, determined and patient with beginner, intermediate and advanced students.